Regular price
$2,500.00 USD
Regular price
Sale price
$2,500.00 USD
Unit price
per
Sale
Sold out
Share
View full details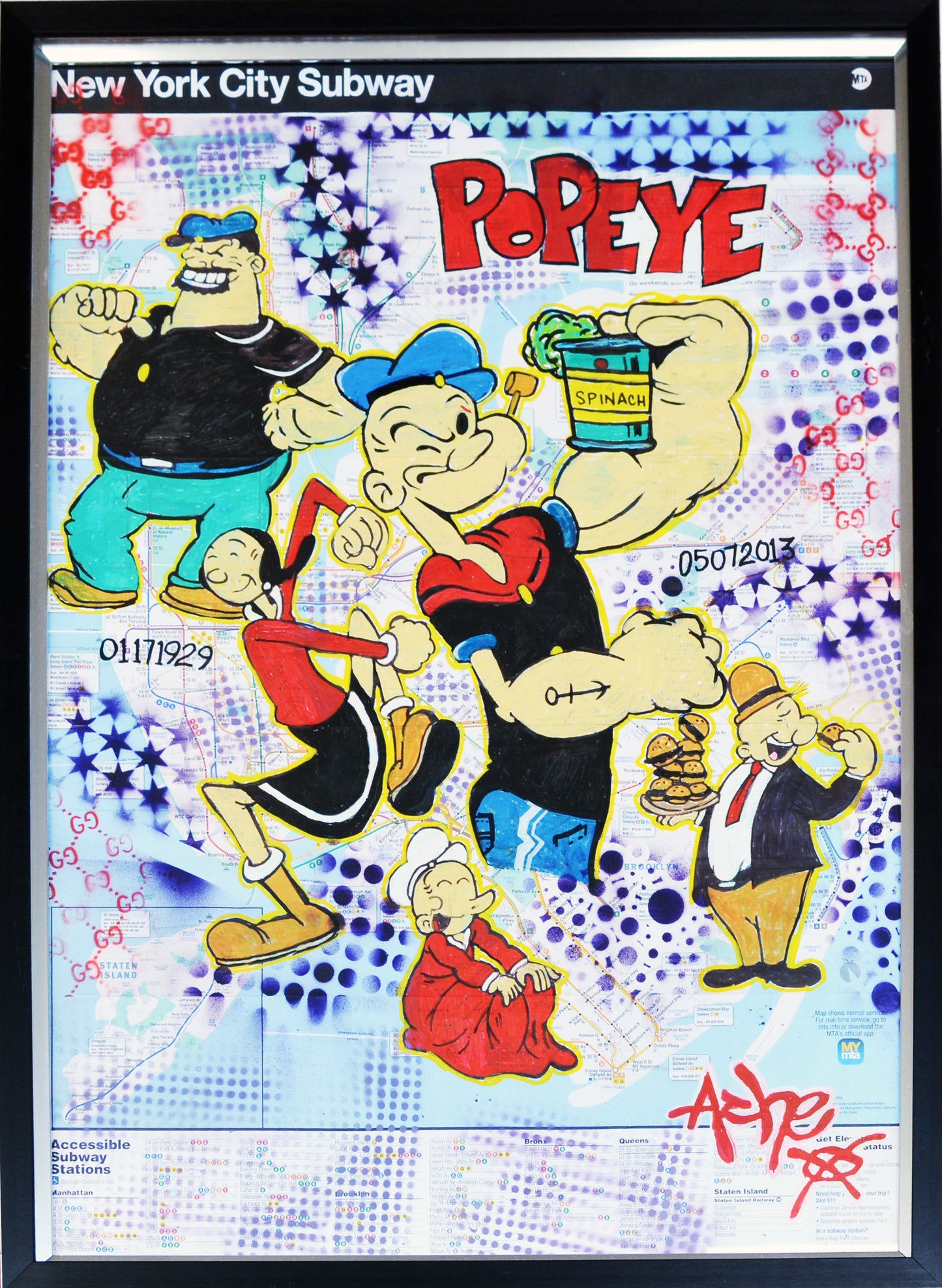 Description

Acrylic on New York Subway Map
32 1/2 × 22 3/4 × 1 in | 82.6 × 57.8 × 2.5 cm
This is a unique work
This work includes a Certificate of Authenticity

About the Artist

Al "Ache" Latorre was born in the Alphabet City neighborhood in New York City on October 6th, 1967. His mother was Puerto Rican, and his father was Black American. Al was born with epilepsy and was hospitalized very frequently due to seizures at a very young age. While at the hospital, he would spend his hours and days drawing.
By 1977, while Al was displaying his artwork at the F.U.N Gallery in a group show, Andy Warhol showed up as a guest. He walked over to Al and said, "I told you so." Al laughed after recognizing who he was in the presence of. Al Thanked Mr. Warhol and they remained friends until Warhol's death. Though they never worked together, Andy would always mentor Al on the direction of his work.
When Al started getting serious on showing his art at galleries, he would meet and work with some of the top artists of all time like K. Haring, J.M. Basquiat, Ero, Dontay Wilder, Dimer, Doze Green, Hush357, Futura 2000, John Matos (CRASH), LA2, View, Eric Drooker Sue Coe, Vinny Salas, Paula Hewitt, and many more.
Through the late 80's and 90's, Al would go on to show at the F.U.N Gallery, P.P.O.W Gallery, Fashion Moda, Southside Cultural Art Center, The New Museum, The Inner World Gallery and several auctions. Al then opened Da Lowa Deck Gallery in Lantana, FL for the next two years where he reintroduced himself. Al went on to show in Orlando, FL at Graffiti Iconz Gallery, Redefine Gallery, Area 54 Gallery, Pintura Project, and City Arts. Then, Al returned to South Florida where he reopened Graffiti Iconz Gallery in 2013 where he had several solo exhibitions and in addition to showings at Boynton Beach Art District, Danieli Art World and Container Exhibition, Garala Fine Art Gallery, Lurie Fine Art Gallery, The Gallery Lounge, Art Basel Miami, Art Hampton, 50 Roses Charity auction at Royal Palm Yacht and Country Club, Place of Hope Boca Raton Auction for Elizabeth Smart and presently at Posh Design Studio.